PET bottle disposal process
Strautmann, Hall 8 Booth 124
Mineral water company Mineralbrunnen Krumbach, which produces mineral water and soft drinks, calculates that it fills up to 150 million bottles a year, which it distributes to beverage wholesalers and retailers. It has recently invested in the installation of three Strautmann machines for the baling and compaction of used PET bottles, ready for shipping to recycling plants.
In Krumbach's previous process, full PET bottles were emptied through a perforator, then compacted in bales by a channel baler. The restricted availability of storage at the company's site meant that bales had to be collected frequently. It was labour-intensive and increasing transport and logistics costs, as well as bale handling and wear and tear on the perforator meant that the process became uneconomic.
When it looked for an alternative collation, collection and disposal method, Krumbach sought a solution that could handle around 2,200 t of PET per year, with installations integrated into the production line and able to continuously compress PET bottles on-site.
"The Strautmann concept, with two redundant briquetting presses and a dewaterer, offered logistical added value. The internal process is now much easier," reports Alexander Diehm, Operations Manager at Mineralbrunnen Krumbach in Kißlegg, Germany.
Empty disposable PET bottles are ejected on to a conveyor belt, which carries them directly into the briquetting presses. The high pressure BrikPress produces tightly compacted briquettes, at a rate of up to 45,000 bph (500 ml). The bricquettes are then channelled away by gravity feed. Once outside, the briquettes fall over a two-way distributor into a two walking-floor semitrailers.
"The high briquette density has enabled us to achieve 24 t capacity utilisation, compared with about 12 t before, and to reduce our CO2 emissions," says Alexander Diehm.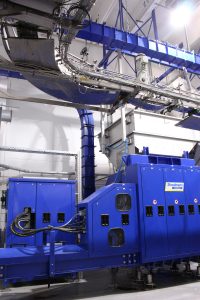 The briquettes are then retrieved by a disposal company and processed into preforms, which Krumbach uses to rebuild PET bottles. Its recycling rate is 97 percent and represents a closed-loop cycle.
Full PET beverage bottles are collected in small wells and placed in a LiquiDrainer by forklift. A feed rocker conveys the material to a rotor, which punctures the containers and empties them, at up to 10,000 bph (1 l) and with 99 per cent efficiency. The goods are pre-compacted and cancelled, to prevent potential abuse. The liquids collected run through a filter box and are discharged separately. The pre-compacted bottles are then discharged from the machine and carried by conveyer belt to the BrikPress and automatically compacted into briquettes.
Mineralbrunnen Krumbach now has a fully automatic and reliable disposal system based on the Strautmann press system. Handling has been cut to a minimum and the company and greatly reduced CO2 emissions, also.