Processing rPET without losing quality
Repi, Hall C5 – Booth 356
"Drinktec is back after five long years in which we have witnessed dramatic, never experienced before changes and evolutions worldwide. The packaging industry has had the chance to prove its crucial role in offering safety and hygiene in health emergencies like the one still ongoing. On the other hand, there is no doubt that the packaging world has been put under increasing pressure like never before by the tremendous push towards sustainability and recycling," says Lucia Buffoni, Marketing Manager at Repi.
Repi, a manufacturer of liquid colours and additives for plastic packaging, will welcome visitors at the heart of the PET Point area to show its latest developments towards circularity and recycling. Repi has been focusing on advanced additive and colour solutions for PET and rPET for decades. Their ranges of anti-yellow, optical brighteners and IV enhancers have, over the years, represented a valid aid to rPET recyclers and packaging converters, offering a solution for anyone facing the challenge of including increasing rates of recycled material in their plastic packaging. Such additives can be used at different stages of the rPET value chain, ranging from recycling up to preform or tray manufacturing, with no impact on processes. It offers flexibility in its addition, which can be varied from one batch to another. The increasing demands for recycled percentages and the scarcity of food grade-PET flakes are presenting challenges related to quality and colour consistency between one batch and another.
The main problem that both recyclers and converters struggle to manage is the drop of L* of CieLab numbers while respectively recycling and moulding or extruding the final packaging. The L*a*b* colour space describes all perceptible colours. It uses a three-dimensional colour space in which the brightness value L* is perpendicular to the colour plane (a*,b*). However, it is possible to correct off-shade rPET pellets with custom-made formulations that can act on both the a* and on the b*, where traditionally the darkening of material (precisely the drop of L*) is difficult to avoid.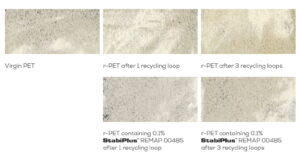 This is where StabiPlus additive comes in. The latest development by Repi: a liquid formulation acting specifically as a proactive stabiliser that prevents rPET from aging and discolouration, cycle after cycle. The additive can be used both at recycling stage, added to a mechanical recycling process with SSP, or directly by converters at their packaging production stage, providing flexibility in addition ratios. StabiPlus offers a new protection technology that does not affect intrinsic viscosity and therefore mechanical properties of the recycled PET, while widening the window for sustainable use of recycled PET. StabiPlus represents a valuable solution to boost the use of different incoming material quality since it improves aesthetics cycle after cycle.
With its new StabiPlus additive, Repi shows how the technology of chemical additives can provide a crucial contribution to polymer recycling, and that it is necessary for the whole value chain of plastic packaging to closely co-operate and share challenges, ensuring that everyone is moving in the same direction, ever marked by the well-known key words, "reduce" (weight without losing performance), "reuse" (packaging whenever sustainable), "recycle" (thanks to the advanced technologies developed so far).