Recycling of 4 billion plastic bottles per year
Bariq for Techno and Advanced Industries, a subsidiary of Intro Resource Recovery Holding, was the first PET bottle-to-bottle manufacturer in the Middle East and Africa. Founded in 2011, Bariq is an independent Egyptian PET recycler who started production in 2012. Bariq benefitted from Egypt's FTA (Free Trade Agreement) with EU, US and the COMESA – The Common Market for Eastern and Southern Africa.
The company has already recycled 15 billion of 100% locally-sourced plastic bottles which is equivalent to the production of 122,000 t of food grade pellets and 260,000 t of CO2 emissions mitigation. The material is 100% traced and using AI technology the origin of the bottles and the bales can be detected. By 2023, Bariq production output capacity is expected to reach 50,000 t/a of food grade quality PET, which will position the company as one of the largest producers in Africa and the Middle East.
With a stellar team of industry veterans and environmental enthusiasts working with state-of-the-art technology, Bariq is currently building the largest recycling factory in Africa with the capacity to recycle 4 billion bottles/a. To herald this expansion, Bariq is hosting new Autosort models from Tomra equipped with flying beam and sharp eye technology, gain, and deep laiser providing the highest safety standards. In addition, Bariq will increase production capacity and efficiency by adapting the robotic arm from Max-AI technology. More-over, to enhance the quality of the PET flakes, the company is installing a magnetic separation solution from Steinert. This superior fine-pole-system is the Type 6119. Additionally, flakes sorters by Tomra will be installed. They are equipped with a hopper including level sensors combining simultaneous detection of colour, enhanced material and metal using high resolution Near Infrared (NIR).
The Bariq leadership team aim to meet the needs of the global players in the packaging industry including major brand owners names such as: Coca-Cola, Nestlé, L'Oréal, Unilever, Henkel, Ikea as well as other significant bottlers. Bariq states to comply 100% with 15 Global Certifications including: USFDA, Efsa, Health Canada, EU CertPlast and EU Reach and registered under Registered under Ecoembes Spain as the only non-European PET recycler. Currently, Bariq is currently studying various growth opportunities in the Middle East and implementation is expected to commence during 2023.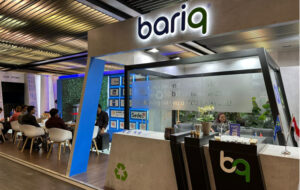 Bariq is also expanding its PET recycling to areas in the Middle East, Africa & USA. The company aims to be a significant global player in the waste management industry taking advantage of MRFs, up & down stream integration, waste digitisation, HDPE Recycling as well as chemical recycling. The company is targeting to recycle 50 billion bottles saving 1 million tons of CO2 emissions by 2030.
The range was shown to exhibitors at the K' show. Bariq's products were launched in three new markets and at the Cop27 conference, held recently in Egypt and at the Fifa World Cup.