US PET recycling reaches record levels but more to be done
Bob Schiavone from R&D/Leverage, an Adler Co. says that the industry has to raise its game to educate the public and to ensure sufficient and genuine recycling capacity and infrastructure.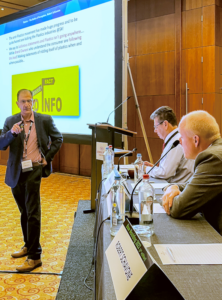 Bob Schiavone, Global Marketing Communications Director of R&D/Leverage, addressed the issues of public perception of the plastics industry and recycling at the Blow Moulding Conference and Exhibition in Brussels, Belgium, at the end of 2022. At the same time, the USA's National Association for PET Container Resources (Napcor) published its 2021 PET Recycling Report. It documented the largest amount of postconsumer PET ever collected in the USA and noted a new record for thermoform collection in the USA and Canada. Recycling rates in the USA alone were recorded to have increased to 28.6%; across the whole of North America (USA, Canada and Mexico), the rate rose to 36.8%. Bottle collection in the US exceeded 1.9 bn lbs (862 million kg), with total thermoformed plastic collections in the US and Canada reported to have reached 142 million lbs (64.4 million kg).
Schiavone has firm views on recycling, on what he describes as the 'anti-plastics agenda' of some lobby groups, and on the industry's failure to proclaim and spread positive messages about its products and its achievements in collection, reuse and recycling.
PET reclaimers in the U.S. and Canada collected and processed 73% of PET thermoforms. For the second year in succession, market consumption of rPET in both food & beverage and non-food & beverage bottles exceeded demand in the fibre market in the USA and Canada. PET collected via deposit redemption schemes increased 46%, compared with 2020, indicating a rebound from the Covid-19 downturn and that pandemic-driven disruptions to recycling services are being resolved. The wider North American recycling rate is over the Ellen McArthur Foundation's 30% threshold, regarded as the postconsumer benchmark for proving that recycling works in practice and at scale.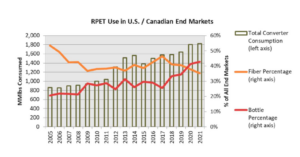 However, in the face of campaigns that deliver more in the way of headlines than solid endeavour and real environmental benefits, the message about the gains the industry has made over the past several decades is not getting across, Schiavone maintains. He ascribes this to the industry's failure to spend on B2C (business to consumer) communications. While a lot of money is spent on marketing it is primarily B2B (business to business). The environmental message is reaching only the converted, within the plastics industry, which allows misinformation to gain traction in the wider world. The most important audience – the consumers – are not being involved in the debates.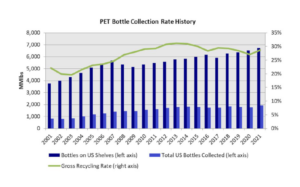 "We all understand the industry, we understand the polymers, the science and the processes, so why aren't people believing us?" he asked. He ran through a brief history of plastics since the 1950s and into the 1960s, when the term 'reusable plastic' was abandoned; single use was presented as the hygienic approach. Mixed messages and inconsistency, mountains of trash in landfills and a general failure to 'walk the talk' lead to the messenger being viewed with suspicion.
A significant part of any message is delivery
"I know there are about 20,000 local governments within the US – communities and townships – who used to make money from their recycling; they got income from it. Now, it costs them," Schiavone said. "What some of these townships have to pay out now is enormous. They are trying to balance their budgets, to pay for schools, policing and so on – the recycling system is really broken."
He says that this failure to practice what is preached makes the job of the anti-plastics lobby very much easier. Some of the opposition bodies are very well funded and have highly skilled marketing strategists and technicians.
"Polling has shown that consumers want to know what the industry is doing about the problem. Polling showed that, back in the 1990s and 2000s, when we spent money talking to consumers, they had a much more favourable opinion of plastics," he said. "Now, Hollywood doesn't want to show any more single-use plastics on any of their movies or television shows. If you're in packaging design you'll get a special award if you can show how you've eliminated plastics in your design. In national parks throughout the US all single-use plastics have been banned from being sold. I see anti-plastics groups making headway in creating laws and taxes here in Belgium." Belgium used to be known for some of the best recycling rates in the world and it still has but that message is being lost. The plastics industry has to stand up for itself.
"The American Beverage council is doing a really good job of 'bring every bottle back' but – I've lost count – over 50 different articles saying plastics can't be recycled into new bottles. That's a lie," he declared. "I heard about some great innovations today but how much of it will matter if the consumer doesn't believe you? I have no problem with support and investment in recycling. I think that it's good idea for us to volunteer and help clean up the oceans and streamline refined plastics usage.
"But we have to find a way to show the world our efforts in these areas and to do it, we need a marketing campaign, which needs funding, it needs direction, it has to talk about the facts. But you can't do one of these things and not the others; they have to be done in unison. If we don't do this, the anti-plastic messaging is going to continue," Schiavone declared. "I've heard today about new plastics or new processes and it's going to change the world – but if you don't include the consumer, will any of that matter? If we can at least improve consumer perception it will affect our bottom lines. If you're doing anything that's helping improve the process, think about how you involve the consumer. Share the facts, on your company website, on social media – there's a lot of good information out there, that we should be sharing."