High-speed labelling goes green
Latest generation of Opera and Kube labellers
Sacmi Beverage says that the large, world-spanning industry is also multi-faceted and demands solutions that can be optimised for both high volumes and medium output rates, on which format changeover speed/adaptability are essential.
Sacmi Beverage has sold over 2,500 labelling machines worldwide, including both stand-alone systems and equipment integrated with complete stretch-blowing and filling lines. It recently presented the latest versions of its established Opera and Kube labelling machines that, the company says, provide comprehensive solutions that combine high productivity and versatility on various labelling technologies and systems.
Sacmi's Flexi Opera labeller range is designed for a full range of container types, including cylindrical or shaped, in glass, plastic or metal. The company says that it offers a combination of versatility and very high output rates.
The Opera range has been available for many years, during which time it has been upgraded and evolved. Its multi-material approach is integrated with the ability to use different labelling systems, including the application of pre-cut, wraparound or self-adhesive labels, on a single platform.
Manufacturers can also apply one or more labels on the same container using the same technology or a combination of different technologies, such as cold glue, roll-fed, adhesive, or hot melt. Flexi Opera is available in a range of configurations and can be installed on existing lines. The machine is designed within optimised overall dimensions and has extensive scope for customisation to customers' particular requirements.
Sacmi says that its Kube range takes a significant step upwards in a single machine's ability to handle diversified product mixes and frequent changeovers, with all format change-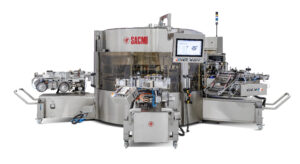 over tasks able to be managed directly via the operator interface. Users can save various recipes and recall them as necessary, which means they can maintain efficiency in sectors like wine, beer and spirits, where format changeovers are standard, using multiple labelling technologies and systems.
Kube offers a plug/play approach. Its modular framework allows manufacturers add a wide range of options, such as cold glue, hot melt, self-adhesive. The machine incorporates an automatic bottle positioning system and is available with Sacmi's proprietary LVS labelling vision system, to deliver comprehensive process quality control.
Sacmi labellers are also designed to incorporate new labelling systems and materials that aid the creation of a returnable PET supply chain.
Sacmi Beverage has already developed and installed many exclusive solutions, across the world. These include, in partnership with key raw material producers, development and supply of new washable glues, alongside new systems that apply labels with fewer glue spots, making it easier to recycle PET containers for food use.
Glue can be applied exclusively on the overlap area of the two flaps in the case of wrap-around labels. During recycling, these are separated by a Sacmi-supplied cutting tool.
Sacmi says that the latest versions of its solutions aim to accompany customers through the green transition: helping them face regulatory changes being enacted across the world and ensuring they can respond to consumer demand for innovative, sustainable packaging.