A smart way to produce PET bottles for up to 2.25 l
PET Technologies – hall 7 stand 646
Late November will bring together numerous packers and beverage producers from around the world in Nuremberg, Germany. PET Technologies will again be participating there with the newest APF-Max series blowing machine on the booth.
With nearly 25 years of experience in the PET stretch blow moulding industry, PET Technologies is proud to present the newest APF-Max 2 blowing machine at the BrauBeviale 2023 event. The APF-Max 2 is a two-cavity machine from APF-Max series of blow moulding machine, designed to produce PET bottles ranging from 0.2-2.25 l, with an output capability of up to 3,500 bph. This solution is intended for those either embarking on their manufacturing journey or transitioning from semi-automatic machines to higher productivity with a linear machine. The APF-Max 2 blow moulder distinguishes itself with a range of special features. Notably, it offers quick changeover capabilities, facilitating the transition between preform types ranging from 18 to 38 mm with ease. To ensure precision and consistent quality during the moulding process, each mould cavity benefits from a set of valves. The machine's patented mould closing system and automatic temperature regulation further contribute to its efficiency and reliability making the APF-Max 2 a serious choice for modern manufacturing needs, according to PET Technology.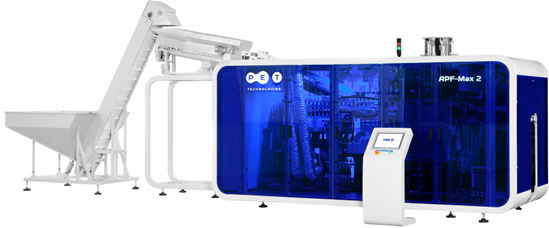 The heating system
The APF-Max 2 has a NIR preform heating system. The APF-Max blow moulders are among the first SBM machines of linear type. NIR heating system for PET bottles production:
Uniform temperature distribution between the inner and outer parts of preform wall
Reduced heating time
Compact heater size
Reduced energy consumption of blow moulder
The heating process is faster in comparison with the conventional infrared (IR) system. It reduces energy consumption and enables the design of a smaller (shorter) heater of the APF-Max 2. The equipment has smaller footprint and is easy to transport.
The moulds
PET Technologies tackle many spheres of PET bottle production, one of which is blow moulds manufacturing. PET Technologies boasts a full production cycle on its plant, featuring over 140 metal working machines and two dedicated R&D departments. PET Technologies utilises duralumin alloys of German origin. These alloys exhibit exceptional hardness of up to 100 HB. This particular type of aluminium possesses special mechanical properties, offering a balance between hardness and plasticity, making it ideal for withstanding shock loads.
The moulds production facility is equipped with advanced 4- and 5-axis CNC machining centres from renowned manufacturers such as Deckel Maho (Germany), Doosan (South Korea), and Micron MILL (Switzerland):
Achieving a high level of automation (resulting in cost reductions);
Ensuring precision and high processing speed;
Enabling the production of products of any complexity.
This infrastructure permits PET Technologies to produce moulds for all European brands of rotary and linear blow moulding machines. This infrastructure has transformed PET Technologies into an authorised partner of global brands.
Design is in the detail
Customers will be inspired by unique ideas for bottle design developed by PET Technologies. The bottles are claimed to be attractive and technologically advanced. The company aims to help its customers to combine lightweight with high resistance, sophisticated decoration elements with adequate blow moulding properties. Laboratory tests will save time and money by improving the bottle design to the point where it not only looks good, but also is strong enough to take care of the product and resist transportation challenges.