KHS – hall 8 booth 418
KHS will be presenting its portfolio of filling technology and packaging systems. Following the introduction of a universal adhesive for the beverage can segment, Nature MultiPack (NMP), in the future KHS will now be offering this for PET, too. The KHS portfolio is rounded off by a number of digital service products, among them intelligent systems for remote diagnosis and maintenance and a range of additional virtual training courses.
Following the successful launch of a universal adhesive for beverage cans, KHS is now also offering this streamlined consumable for plastic bottles. PET containers of practically any shape, size or material thickness can be joined together using just one type of adhesive. This is facilitated by a special process where the adhesive is foamed during application to the containers. The new system is intended to also increase the level of convenience for the consumer, as bottles are easier to separate. Moreover, the outer wall of the PET container is subjected to less stress when the pack is opened, meaning that even with lightweight bottles with a very low wall thickness overload and damage are more or less totally ruled out.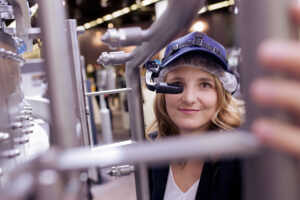 Digital systems
KHS' digital service portfolio is also a feature of this year's trade show booth. With ReDiS (Remote Diagnostic Service) the systems supplier already supplies a remote maintenance method. This enables system disruptions to be analysed and remedied and software updates and modified system parameters to be uploaded to the machinery at any time on consultation with the customer. KHS provides additional help to make troubleshooting more time- and cost-effective with its Augmented Reality Service (ARS). According to the principle of 'I see what you see', support engineers gain a clear picture of the situation through the smart glasses worn by the user and line availability is thus quickly restored.
The company will also keep users informed about their training services: in addition to its tried-and-tested services offered on site or at its various training centres worldwide that are now also accessible online, with its virtual training centre the Dortmund engineering company has now moved one step closer to providing modern, flexible forms of learning. Here, customers can independently master the correct operation and regular maintenance of their machines – with educational units both instructive and entertaining and accessible 24/7. Grouped under the KHS campus brand, the courses form a full blended learning package of extensive vocational and further training and human resource development measures.