Sustainability trend in beverages shaping the future of PET bottles
Plastic packaging dominates the grocery landscape. Flexible plastic and PET bottles lead, and account for 47% of retail packaging sales. With a 3% rise in 2022, the PET bottle headlines overall packaging volume growth. But there are substantial changes taking place as circularity and sustainability are gaining momentum.
Article by Linda Lichtmess, Research Consultant at Euromonitor International
For many years, PET bottles have taken the center stage of medial interest when it comes to the discourse on plastic packaging and its environmental impact. We have all seen pictures of massive landfills in African or Asian nations or beaches being flooded by plastic bottles, PET bottles. While there are innovations looking into alternative materials such as metal cans or glass bottles, the reality is that alone in the beverage industry, PET bottles have a share of more than 41%. Looking at the soft drinks sector, the most important consumer of PET bottles, the share is even higher making 61% in 2023. Forecasts are hinting at a rather stable share, but with a growing consumption meaning that the beverage industry will need more PET bottles in 2027. In actual numbers: 80 billion units more than in 2023. Looking into soft drinks in particular, bottled water will be the main driver of growing volume consumption. As PET bottles are the most prominent packaging type in this category, the expected future consumption will also increase the need for PET bottles. This is particularly true for the Middle East & Africa, a region which is expected to drive the growing water consumption.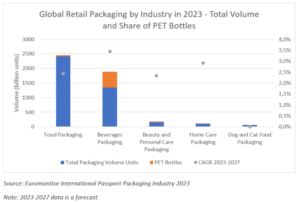 The growing consumption is facing a growing need for more sustainable solutions of plastic usage. On the one hand, the regulatory pressure on corporates is increasing. The EU is likely to ban greenwashing and aiming to improve consumer information on product durability. Similar to the EU Health Claims directive, the European Union is planning to ban generic environmental claims that could be misleading, and which are not based on approved certification schemes. Some prominent examples have been claims of the soft drinks' producer Danone's brand Volvic which claims to be "climate neutral" in Germany. On the other hand, consumers are increasingly worried about their consumption and its environmental impact and are demanding more sustainable action from businesses and brands. According to Euromonitor International's Voice of the Consumer: Sustainability Survey in 2023, nearly two thirds of global consumers are worried about climate change.
At the same time, industry experts complain that the lack of consumers to pay more for sustainable products is the main barrier hindering sustainability initiatives' effectiveness (Source: Euromonitor International Voice of the Industry: Sustainability Survey, 2023). This is especially the case within the packaging industry, where more than 58% of experts agreed. The industry is also making investments that aim at e.g. saving water and energy, recycling, green technology, circular economy business models etc. The problem seems to be the communication of such efforts to the consumer, as Euromonitor's survey showcases.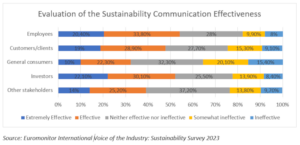 The main pillars for material circularity are: removal, re-design, re-use, and alternative models. Reducing the material to its very core, removing any surplus and incorporating recyclable material is the goal. While innovation for alternative packaging solutions is also ongoing, ensuring the material already out there can be collected and recycled (and/or refilled), will be important to ensure a circular packaging economy.
Thus, one increasingly popular approach is the surge of deposit return systems (DRS). At the moment, DRS schemes are fairly limited in geographic scope. Roughly 13% of global beverage packaging is covered by a current or soon-to-be implemented national DRS.
Plastic is here to stay. But innovation is making plastic packaging reusable while prioritising affordability for consumers. At the same time, companies will need to communicate their efforts well to consumers, where packaging is the main medium. As consumers trust in "recyclable" product claims, businesses must ensure to educate consumers while being transparent about their supply chains.