PET – A review of material developments
A desire for a plastics-free world has been identified by market research company Euromonitor as one of the top ten global consumer trends of 2019. In relation to PET however, the facts tell a different story: around 80% of the PET resin market still goes into more than 500 billion bottles worldwide annually, and PET remains the beverage packaging material with the strongest growth rates and prospects. And this is with good reason. Alongside advantages like rupture safety, resealability and recyclability, the life cycle assessment of PET bottles can be impressive. Following our reviews of the achievements in stretch blow moulding and filling (issue 3/2019), recycling (4/2019) and bottle making (issue 6/2019), we will now take a closer look at developments on the materials side.
Like most polyesters, PET is manufactured in a multi-stage procedure. The first step is an esterification based on the monomers purified terephthalic acid (PTA) (70%) and monoethylene glycol (MEG) (30%) at 220-260 °C. The components can also be substituted with bio-based variants, such as from sugar cane.
The precondensate this creates is reconstructed through polycondensation into long-chain PET. The result is a polyester that can be used to make films and fibres. To obtain bottle grade PET, this polyester subsequently undergoes solid state polycondensation (SSP) to achieve higher molar masses.
The long chains, indicated by this high molar mass, are reflected in the intrinsic velocity (IV) values, which are around +/- 0.80 for bottle grade PET. Because of the pressure, carbonated soft drinks require a high viscosity (0.80-0.88) but for still water, a lower IV value is sufficient (0.70-0.80). Alternatively, MTR technology (Melt to Resin) eliminates the step of solid-stating; during melt polycondesation, by means of a special high-viscosity finishing reactor, high-molecular PET material with almost the required IV can be obtained.
Co-monomers are required as catalysts for these processes and these can constitute up to 10% of the weight. Their purpose is to optimise the bottle grade PET with regard to properties like colour, melting temperature or crystallinity.
1941 to today
PET can be traced back to an invention by John Rex Whinfield and James Tennant Dickson. In 1941 they applied for a patent for the "highly polymeric substance" they had developed for the textile industry in the laboratories of the English company Calico Printers Association as a cheap alternative to silk or nylon.
The chemical company ICI bought the world manufacturing rights in 1947 and began full-scale commercial production in 1955 under the name "Terylene". The PET yarn was found to be strong and moisture-resistant, and therefore became a popular fibre for use in manufacturing shirts. It took until the end of the 1970s (see PETplanet 06/2019) until its modification and use in bottle production.
Since then, the material has continually been adapted to suit the requirements of the sector. There can be great differences depending on the type of product to be bottled and the processes used to do this. Still waters for example require a high level of transparency and a low proportion of acetaldehyde; sensitive beverages require an effective UV barrier; carbonated drinks require an increased gas barrier. The properties can be adapted precisely to suit the requirements profile by modifying the material or dosing tailored additives.
The type of further processing must also be considered: the lower the degree of crystallinity, the less heat is necessary for melting the resin, while the higher the degree of crystallinity, the more heat is required. A reduction of crystallisation speed (achievable through co-monomers or additives) is of little significance in a single-stage process but is of much greater significance in a two-stage process where the preforms must be cooled quickly so that no crystallisation takes place.
Enjoy our overview of 20 years of achievements in bottle grade PET – as reported in PETplanet Insider!
PET bottle material – some highlights 1999-2019 as reported in PETplanet Insider
1999
When PETplanet was launched in 1999, PET prices were hitting the floor due to world-wide overcapacity, and the enthusiasm to invest in the business was damped. Manufacturing costs for small scale plants were just below the market price. In an article in our first issue we summarised the world-wide market situation.
2000
In issue 1 Wilson Color business of M. A. Hanna Company was serving the particular interest to make PET bottles looking like glass bottles with its FX range of frosted colours. The article also points out that – under some circumstances – a UV barrier or stabilisation function may be desired; this was why combined formulations were being developed. (Ed., in 2001 M.A. Hanna merged with Geon Corporation and formed PolyOne.)
Eastman Chemicals has developed a number of different PET grades for specific purposes, including PET for beer bottles and PET for water bottles. The Eastapak Aqua range was designed specifically to meet the stringent standards of optical clarity and taste established by the major international water companies and regulatory bodies (issue 7).
How to keep the taste of beer in PET bottles was a question answered by a resin from Darex. The Dareval oxygen barrier resin enables multi-layer PET bottles to have glass-like oxygen barrier capabilities (issue 12).
2001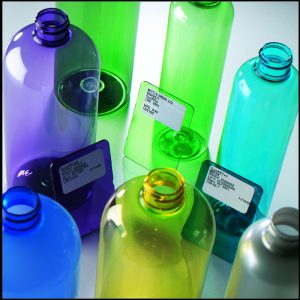 In issue 8, Polyone gave an insight in the development work of its Technical Centre and the growing need for precise colour matching. At the Centre in Georgia, USA the company had more than thirty standard colours, effects and additives available for PET, as well as offering a bespoke colour matching service.
2002
The range of colours used for beverage bottles had, hitherto, in most cases remained fairly conservative and marketers have had stuck to tradition: amber for beer, blue for water. As PET continues to find applications in an ever-wider range of product sectors, colour additives offering almost unlimited options to the packaging designer, and protecting the contents of the container are accelerating. In issue 4, we were reporting on the Macrolex colour additives which were supplied in the form of micro-granules by Bayer.
In issue 6+7 we discussed with M&G the uses of PET and how the end use application drives the resin attributes required. Different requirements for CSD, water, beer or juice were examined.
Issue 8 took a look at some of the functional additives available from ColorMatrix Europe. Besides their range of acetaldehyde scavengers, UV absorbers or reheat performance additives, the company forecasted a barrier additive that should significantly improve the barrier performance of single layer PET bottles.
2003
Acetaldehyde can be a particular problem in water bottles, which is why PET resin producers such as Voridian were tackling it head on with specifically-tailored resins, as we reported in issue 1. The first step to reduce AA levels is choosing the right PET resins with an IV. The low IV minimises AA generation during melt-processing. The resins can be combined with an AA scavengers which react or combine with AA to 'lock' it into the polymer matrix so that it cannot migrate into the product.
A new resin range developed by M&G, ActiTUF, contain barrier properties within the resin in the form of an oxygen-scavenging additive. As reported in issue 3, M&G believed that, by eliminating the risk involved in selecting a specific barrier technology, more brand owners could be encouraged to convert to PET.
ColorMatrix tackled the wine market with a pallet of PET colourants familiar to the wine industry (issue 4). Having recognised the potential and the technical demands the company announced it was working on a range of additives for mono-layer PET packages, that would complement existing multilayer solutions.
2004
Using accelerated UV exposure testing in refrigerated UV chambers, Milliken scientists simulated retail store environments and explored the impact of UV light on beverages at various levels of light exposure and various levels of UV protection. These research studies have been instrumental in the development of ClearShield, a homogenous polymer additive that provides UV protection at the 390 level (issue 3).
In issue 5, M&G's International Marketing Manager, David Swift explained the differences in the needs of customers in specific regional markets. So the European market had not generally moved towards darker resins for faster reheat of preforms to speed bottle blowing operations, whereas the US market had placed less emphasis on grades that are specifically designed for still mineral water.
At a press conference in September, Eastman Chemicals announced that they had developed a new way of making PET and will build their largest ever plant based on this technology. Named 'Integ-Rex', the new technology promised four times the space efficiency, lower energy requirements, and overall lower costs (issue 10).
New brands and products introduced on the market in PET had heightened the need for product protection and longer shelf life. Container manufacturers were constantly required to create innovative packaging with diversified colours and new properties, in support of this huge market expansion. In support of this, Clariant Italia developed a colourful new range of masterbatches (issue 10).
2005
In issue 1+2 M&G reported that they were building the world's biggest virgin PET plant with an output of 450,000 t/a in Brazil.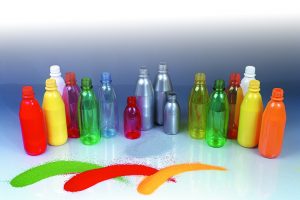 Strong opaque colours for PET were growing in popularity. Holland Colours was comparing the pros and cons of liquid colours and solids in the same issue.
One of the biggest brewing and bottling plants in Russia and Europe has extended the shelf-life of a popular beer by six months. To achieve this, they were using Amosorb, a polyester based active oxygen scavenger by ColorMatrix.
The first PLA bottles popped up in issue 5. The Nature Works article on the PLA material appeared in issue 6+7.
Clariant Italia compared the UV transmittance of PET bottles with a wall thickness of 300 µ with and without UV absorbers or amber shade in issue 9.
In issue 11, Zimmer presented the latest generation of PET solid state polycondensation equipment.
Döhler commented on the challenges of filling dairy products in PET. They define oxygen-free bottling as of major significance (issue 12).
2006
At K 2004, Croda was launching IncroMax PET 100. In issue 2 the company showed a friction reduction of up to 60% when using the product,without affecting the physical properties or colour of the polymer.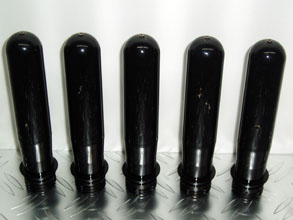 Every new application brings a new challenge. In the case of beer for the Russian market, ColorMatrix has been asked for a new generation of liquid colourants with the ability to remain stable if subjected to ambient winter temperatures of -40 °C (issue 3).
In issue 4 Holland Colours showed how adding colour to PET that already contains an oxygen scavenger compound can have the undesirable effect of partially or totally destroying the action of the oxygen scavenger.
Holland Colours developed a special high gloss white colourant for use on monolayer PET UHT milk packaging, named Holcomer (issue 9)
2007
Issue 3 and 4 featured a presentation on PET catalysts, including non-antimony alternatives. A major hurdle was that a new catalyst must have an activity comparable to that of antimony, both in the melt phase and also in the SSP. Possible NACs (non-antimony catalysts) are based on titanium, magnesium, silica or aluminium.
We were identifying milk as the emerging market for PET in issue 3. ColorMatrix explained why white alone might not be the right option for PET packaging in this sector. According to their explanation, it is impossible to obtain a complete light barrier with white only. The suggestion: A multilayer bottle with a black light absorbing layer in the middle.
In issue 11, PETplanet reported that DAK Americas has completed work on its Cape Fear site near Wilmington, USA, adding 204,000 t of PET resin capacity. The plant uses Melt-Tek, Uhde Inventa-Fischer's process, eliminating solid stating. The process allows the addition of various amounts of copolymers, to develop resins with improved properties.
2008
We were presenting solutions for sensitive beverages in issue 3. Colormatrix pointed out how additive blends can be tailored for convenient handling and ease of dosing.
In an interview with PETplanet, Neo Group's Managing Director Linas Bulzgys reported on how 2007 was very difficult for everyone involved in the European PET industry, caused by a significant over-production and bad weather conditions (issue 4).
2009
In issue 2+3 we reported that the price of virgin PET had steadied again after a dramatic fall.
At PETpoint, ColorMatrix was launching Amosorb SolO2, designed to ensure extended product protection and longer shelf-life in oxygen-sensitive beverages. It is claimed to delay CO2 egress by up to 30 days and protect from O2 ingress for up to four months longer than PET with standard Amosorb.
Rieter Automatic and Buhler developed a combi-crystal-PET (CC-PET) process which uses direct crystallisation to deliver dust-free, stable PET and crystallisable polyester. It combines pelletising, drying and crystallisation into a single process (issue 12).
2010
A new masterbatch additive for UV protection launched by Ampacet was claimed not to cause discolouration. CrystalClear achieves a clear non-yellow package with protection up to 380 nm (issue 7+8).
In the same issue we reported on the launch of Atmer 7510, a slip concentrate by Croda Polymer Additives. It should reduce surface friction by up to 60% without an adverse effect on PET.
At K, Chroma was exhibiting its new range of frosted PET colour concentrate additives, designed to achieve the look of glass in PET containers (issue 10). According to the company, processors save up to 90% by eliminating spray-painting.
In issue 11, Uhde Inventa Fischer compared its Melt to Resin (MTR) technology to the polymerisation process where Solid State Post condensation (SSP) is required and referred to energy efficiency of PET production by about 40%.
During K, Polyone launched its OnColor liquid colourant system. It has been designed to help converters and OEMs reduce costs and eliminate waste by optimising colourant use and handling (issue 12).
2011
In a case study presented in issue 7+8, Colormatrix pointed out how the implementation of their UV protection Ultimate UV390 addresses issues of costs or visual impact.
At Brau Beviale, Repi was present with their Remap Liquid Colours with a broad range of colour shades and effects, and the Remap Additives for protection of packaging content (issue 11).
2012
Artenius FastFlow+ was introduced in issue 4. The new material was stated to capture the heat energy of the blowing process more efficiently, leading to energy savings of up to 20% compared to standard PET resins.
Americhem added a PCR renewal additive to its range, masking yellowness and improving the L-value (issue 5). The cylindrical pellets have been introduced at NPE.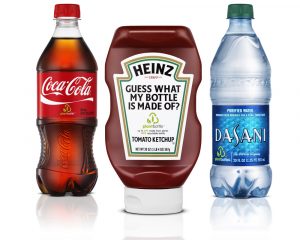 Issue 6 highlighted Coca-Cola's extended range and collaboration of PlantBottle packaging, made from 30% plant-based MEG and 70% PTA. The company underlined its aim to use PlantBottle packaging the company's entire virgin PET supply by 2020.
Artenius had developed a new PET resin that combines virgin PET and PCR PET as feedstock in the po-lymer production process. The result was an energy-efficient food-safe resin called Artenius Unique (issue 7+8). To increase the viscosity, the material undergoes a polycondesation melt phase, completing the removal of any contamination which might be present.
2013
Novapet had pioneered the development and delivery of solutions in PET resins and concentrates for long life dairy packaging, as we reported in issue 1+2. This includes besides the "Dairy" resins also DCU concentrates for opaque bottles and the Luz range of concentrates for transparent or translucent PET bottles.
During our Editour through Russia, we visited the resin producer Senege, part of Europlast Group. Back then, they were discussing an alternative to oil-based PET and were looking into the possibilities of bio-PET (issue 3).
In issue 5 we reported about what we learned at the PET 2013 Conference in Moscow where a shortage of feedstock (both therephthalic acid and MEG) in the Russian PET market concerned the sector.
Phoenix Technologies was launching LNO w resin, a new food-grade, melt-extruded rPET pellet (issue 6). The company stated that it could be used at levels up to 100%, or blended with virgin PET.
Joncryl ADR is an additive introduced by BASF Plastics Additives at K. It was claimed to help recyclates to achieve high performance characteristics, superior even to virgin products. This is possible as the molecular chains produced can even be longer after adding the additive (issue 10).
2014
Catalytic Technologies Ltd (CTL) had developed a new titanium catalyst technology which eliminates the use of the heavy metal catalyst antimony oxide in PET production. The new technology has been tested by major industry players around the world. The company has announced the ambitious business target of taking over 50% of the PET resin and sheet market within the next five years, as we reported in issue 5.
Acetaldehyde (AA) can affect the taste and smell of carbonated and still mineral waters. In issue 8, we were comparing two currently used AA scavenging additives, an anthranilamide and a polyamide-based AA system, that help reduce the negative taste and odour effects of AA migration. The level of AA (ppm) was reduced by both formulations, but results demonstrated that the anthranilamide solution performed better, particularly at lower addition rates up to 0.15%.
2015
Sukano's latest introduction to the PET portfolio included an impact modifier for transparent applications, reducing brittleness (issue 7+8).
Also in issue 7+8, Holland Colours launched a new series of liquid colourants: HolcoPET. Improved processability regarding slip, retention of mechanical properties and colour distributions were claimed to be the benefits.
In issue 9 we introduced NGR's LSP process. Standing for Liquid State Polycondensation, the PET recycling process combines increased IV and decontamination properties with low energy consumption.
IntegRex PET (iPET) was the main driver in the programme of the DAK Americas Group, as we reported in the same issue. The special iPET architecture simplifies and eliminates several production stages in the manufacture of PET resin, such as omitting solids polymerisation. Annual sales back then were 540 kt.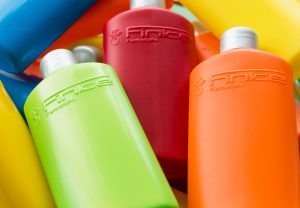 At Fakuma, Finke presented its granulated masterbatches and pigment powders, liquid dyes and colouring pastes. The masterbatches can be tailored according to customers' requirements and include i.e. UV protection.
2016
In issue 3 we reported about the EcoSphere technology from Poly-metrix. Among the key features of this bottle grade virin PET production is the link between melt phase and solid phase polymerisation which allows the recovery of energy.
In Issue 5 we celebrated 75 years of PET. Invented in 1941, it took until 1977 until the first commercially available bottles were available on the market.
Also in issue 5 we reported about Chemco Plastics whom we visited in Mumbai. As one of the biggest converters in India, back then, 200-220 t of material were processed every day.
A series of additives able to correct the shade and to improve IV parameters of rPET were being introduced by Repi (issue 6).
The degree of yellowness of rPET can be decreased by using suitable storage conditions, as Plastic Technologies Inc (PTI) showed also in issue 6.
Issue 9 saw the Editour report of Far Eastern Industries, China. With 1.3 million tonnes worldwide, it occupied the fifth place among PET bottle grade manufacturers. The portfolio was partly made up of faster reheat resin which saves up to 20% energy when heating up.
Also in the context of the China Road Show we learned about colourants for CSD or water PET bottles when visiting Holland Colours in Shanghai (issue 9).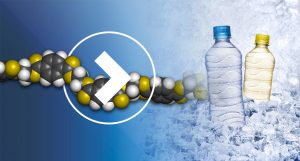 Introduced at K was the new alternative to amorphous PET pellets, called PET CrystalBatch. In a new process developed by cpc, the material is directly post-crystallised and thereby subjected to less thermal stress, retaining its cylindrical shape.
The Melt to Resin (MTR) technology by Uhde Inventa-Fischer is an integrated one-step process, providing bottle grade IV PET melt directly from the Discage reactor. In issue 10 we compared several aspects with those of SSP.
Karl Finke GmbH was presenting a range of colourings with a focus on effect pigments and new additives for irreversible laser marking.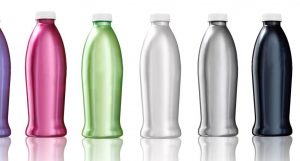 During K 2016, Polyone unveiled colour concentrates to enhance PET packaging with an ultra-glossy metallic effect – processable on standard injection stretch blow moulding machinery (issue 12).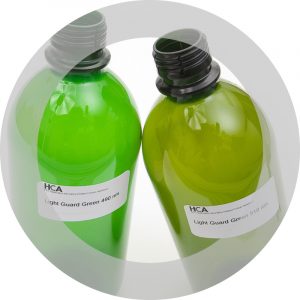 Holland Colours featured its LightGuard series of UV and light absorbers, providing specific protection from 370-400 nm in the UV range, and from 400-700 nm for light-sensitive products. If only UV protection was required, this can be combined with any colour.
Achieving the delicate balance of costs-in-use without sacrificing final product integrity while keeping aesthetics and packaging communication for consumers is a topic Sukano addressed in issue 12.
In the same issue, EnerPlastics, UAE, introduced its range of additive masterbatches. Blocking UV light from 300-370 nm, their UV barrier masterbatch is claimed to maintain a very high clarity.
2017
We visited Ester Industries in Gurgaon, India for issue 1+2. The heat-resistant PET which can be produced using conventional ISBM or EBM manufacturing processes can be filled with products at temperatures up to 90 °C, facilitating extended product shelf life.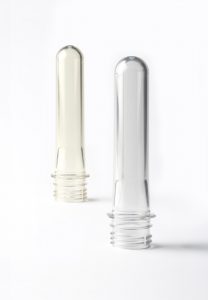 In the field of rPET, yellowing is a blemish to be avoided. In our issue 5/2017, Repi presented a solution in additive form, namely its Anti Yellow liquid additive family with which a yellow or grey shade can be eliminated.
Also in issue 5/2017, three new grades to cover barrier needs were presented by M&G Chemicals, from a very strong CO2/O2 barrier for brewers and juice producers over a medium O2 barrier mainly for vitamin-enhanced waters to a strong CO2 barrier for CSD and sparkling water.
Outside of the box: Ooho is not made from PET but from sea-weed. The edible package from the British start-up company Skipping Rocks Lab is the result of aiming to create a packaging with low environmental impact (issue 5).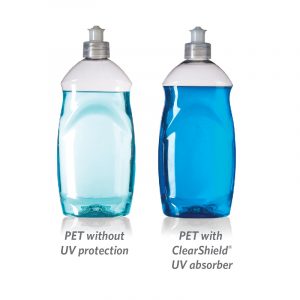 At Interpack 2017, Milliken Chemical demonstrated how its ClearShield colourless UV absorbers are protecting UV-sensitive contents from degradation while maintaining the packaging's clarity and transparency (issue 6).
During our South East Asia Roadshow, we visited Indorama Ventures in Thailand, as reported in issue 11+12. Their global PET market share to this date was 20%.
2018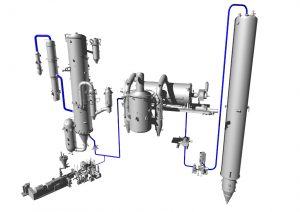 Uhde Inventa Fischer featured its optimised FTR (Flakes to Resin) technology at Chinaplas. This fully integrated process of PCR PET directly onto polymerisation of virgin like rPET resin material is claimed to allow the replacement of up to 50% of raw material without affecting food approvals from FDA and EFSA for the final product (issue 4).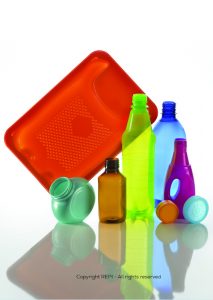 In issue 5, Repi reported on progresses in liquid technology of colours and additives where bright shades can be combined with UV protection, blowing additives, IV enhancer and more.
Consent Plastic, based in Dubai, UAE, produces its own flakes out of collected bottles to manufacture polyester strapping types with a high tensile strength (issue 6). A Gneuss MRS extruder helped to reduce the line's footprint by 12% and the energy requirement by up to 25%, compared with a previous production line including an extruder, crystallisation and drying processing line.
At NPE 2018 Penn Color's Penneffex design team, in association with Husky Injection Molding Systems and PET Engineering, demonstrated a range of new colour and finish effects (issue 7+8). The special effects pigments designed a proprietary special effect compound to be used in the mid-layer of a multi-layer bottle such as thermochromic, phosphorescent or bicolour effects.