"All the bottles that leave our production plants are 100% recyclable"
Ishka – Ireland's fresh spring water
In Ballyneety, County Limerick, the luscious green, rolling landscape of the beautiful Irish countryside is the backdrop to one of the most modern bottling plants of spring water in Europe: Ishka Irish Spring Water. The company, founded in 1978 by Michael Sutton Sr. thanks to a brilliant family idea, is today a multimillion-euro company managed by Mike and Denis Sutton, sons of the founder. Every hour the plant, consisting of four fully automated lines built in partnership with SMI, produces over 40,000 bottles of spring water, with the utmost attention paid to the care and preservation of the surrounding environment.
PETplanet: When and why did Ishka start bottling water?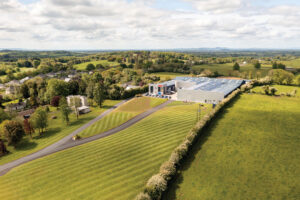 Sutton: Ishka Irish Spring Water is a family business founded in 1978 by our father Michael. Our mother, who was a great Irish speaker, invented the phonics for the trademark.
The company, located in Ballyneety in County Limerick, occupies a production site of 11-acres and is one of the most modern facilities in Europe, where product innovation, production efficiency and sustainable development have been the order of the day since the beginning. In 2012, after major investments to make the site safe, we started producing bottles in PET on site, a goal that our father had always dreamed of, however, he unfortunately passed away only a few months before the start of the new business. About 60% of the water bottled in our factory, is destined for various private labels distributed in the main Irish supermarkets, while the remaining 40% concerns bottles marketed under the Ishka brand.
PETplanet: In general, what position does Ishka water hold compared to the others available on the market?
Sutton: Ishka is known for being "Ireland's freshest spring water", as it is drawn from aquifers 200 meters underground and naturally filtered through the pristine, limestone bedrock of Ballyneety – hence the distinctive taste and product refreshment. Ishka was the first Irish spring water company on the market to introduce a 100% recycled PET bottle and the first to use tethered caps anchored to the bottle, three years before the EU Directive, that made them mandatory, came into force.
PETplanet: Is this innovation continual?
Sutton: Naturally! Innovation is a constant element of our business. Ishka is planning a new €11 million investment, to install a new high-speed rPET bottling line, capable of producing up to 36,000 bottles per hour, by early 2023. We will also install a new glass line for the catering and hospitality sector. The presence of a brand-new kitchen will also allow us to add flavourings and develop a new range of mixers and flavoured drinks.
PETplanet: What are the main factors that convinced you to invest in a new plant supplied by SMI?
Sutton: SMI offered us a unique solution for filling, transporting product on conveyor belts, secondary packaging and palletising, with the consequent optimisation of management costs and time for format changes. The line designed by our Italian partner, guarantees maximum production flexibility. Furthermore, the presence of a local SMI branch that assists us quickly and efficiently, is of great importance to us.
PETplanet: How important are sustainability and environmental protection to Ishka, and to your customers?
Sutton: As a company we are determined to do everything possible to guide consumer behaviour towards the necessary change, to solve the global waste problem and to safeguard marine life. Many of the innovative activities at Ishka Irish Spring Water are about finding optimal solutions for the packaging of our spring water. We chose rPET because it is currently the packaging option that is the most eco-friendly.
Furthermore, we are constantly striving to minimise the environmental impact of our business through a series of initiatives, including the use of recyclable plastics such as rPET and light BPA-free plastics and reducing the weight of the containers. In fact, all the bottles that leave our production plants are 100% recyclable. Further help in protecting the environment, comes from the fact that we produce rPET bottles on site, thus eliminating the need to transport them by road to our factory.
Our company is also part of Repak, Ireland's leading environmental non-profit organisation for the recycling and sustainability of packaging waste. As a member, we help fund projects for the development of fully recyclable household containers and for the creation of national recycling centers.
PETplanet: How do you see the future of the bottled water industry?
Sutton: The demand for bottled spring water in Ireland, is estimated to continue to grow in the coming years. Customers are increasingly interested in "premium" products, in knowing how they are produced and what they contain. At Ishka, we have great respect for the territory that hosts us and for the water it provides; for this reason, we undertake all possible initiatives to ensure the purity of our source and the surrounding environment. Every investment aimed at protecting the eco-system in which we operate, is a guarantee to maintain the quality of our products today, tomorrow, and forever.
PETplanet: We thank you very much for the interview.
Installed machinery:
After a longstanding partnership SMI developed the production line for 5 l containers, which has allowed Ishka to increase plant capacity by over 50%. The expansion project was necessary to upgrade the existing line, this involved replacing the old linear blow moulder with a modern integrated SMI Ecobloc system, consisting of a 3-cavity rotary blow moulder, an electronic filler and a capper.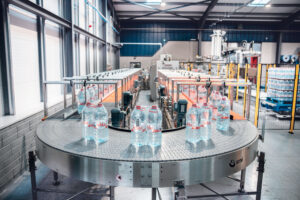 The 3,600 bph bottling and packaging line for 5 l bottles consists of an Ecobloc 3-9-3 HC Ergon with a DV 500 divider & SK502T Ergon shrinkwrapper and finally an APS 1550 Ergon palletiser & conveyor belts. This system upgrade permitted the installation of a faster and more efficient stretch-blow moulding and filling system, while at the same time maintaining a compact footprint, thanks to the fact that no conveyor belts are necessary between the blow moulder and the filler.
The new project also posed a challenge in secondary packaging, as Ishka required shrink film pack formats in 2×1 and 3×1 and a large (4×5) tray format to make a half pallet pack. The 2×1 and 3×1 pack sizes in film only, are made by the SK 502T Ergon shrinkwrapper, which, after the format change, is also used to create a "super" format consisting of a half-pallet display tray without shrink film. The packaging system groups 20 bottles in a 4×5 pattern, then forms a tray around the bottles, starting from a flat blank; subsequently, the package thus created, is palletised and sent to supermarkets, ready for display.
For the 16,000 bph end of line for the packaging of 250 ml & 500 ml PET bottles a CSK42 F Ergon & LSK30F shrinkwrappers with an APS 1550 Ergon palletiser and conveyor belt has been installed. By combining a CSK42F Ergon twin lane shrink wrapper and an LSK30F Ergon shrinkwrapper to re-pack in film only, Ishka create "pack-in-pack" packages for large distribution. With the APS 1550 Ergon palletiser manages half pallets, euro-pallets and UK pallets and has an optional system that automatically loads the half pallets, on standard pallets for storage in the warehouse.