The rise of Zambia's Big Tree Beverages
Investment in European technology
Ongoing projects include a new factory and further investments in technology to expand the production capacity on new and existing brands.
Big Tree Beverages, headquartered in Zambia and part of the Trade Kings Group has, in just a few years, evolved into a market leader. Its product range includes Vatra, Fruticana, Mojo, Appy, Wildcat Kungfu and Fruitop brands. and with a tight investment plan in European technology.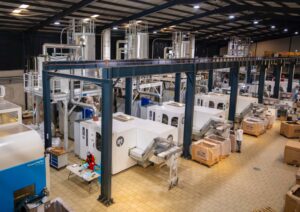 "We started in 2018 with a very ambitious investment programme," said director Hussein Patel. "Our goal was to become a major player in bottling, with complete solutions, capable of accompanying the launch of new products and offering our customers the best consumer experience." Its strategy has been based on clearly-defined investments in European technology.
The purchase of CCM Sacmi machines for the production of capsules, along with IPS presses to make preforms, enabled Big Tree to present itself as a complete bottler, using advanced, contemporary technology. With multiple IPS & CCM machines already installed since 2018, 2022 is seeing two more IPS and another CCM en route shipped to be installed alongside existing lines, where Big Tree is producing its entire requirement of preforms and caps.
"We have experienced continuous growth of our brands in the market, and we have launched new ones," Patel said. He ascribed the company's success to the versatility, high performance and ease of use of its Sacmi machines. All of its preform presses are based on the IPS 220 model, the first one developed in-house by Sacmi, which kick-started its drive into international markets in the preform production sector ten years ago, following the success it had enjoyed with its caps lines.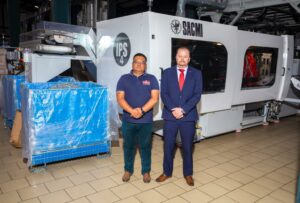 "It is a very high-performance press, which is easy to use. Installation and commissioning takes only about three weeks," Subhodeep Brahmachary, Head of Manufacturing and Projects at Big Tree, added. "It is also highly efficient in terms of consumption." Sacmi's CCM compression technology for production of one-piece capsules for water, CSD and juices, is available in 24, 32 and now 48 cavities.
"What CCM enables is the production of modern capsule standards at very high speed and in a versatile way, with advantages including lower extrusion temperature compared to alternative technologies and the precise control of each individual cavity-mould, guaranteeing 100 per cent quality and yield", Brahmachary continued. "Our teams worked together to develop the most innovative capsule-preform designs, identifying the best performing and most profitable solutions." The Sacmi Rigid Packaging Laboratory, which worked on the project, has developed more than 1,000 capsule-preform designs for customers all over the world.
"Our company has a dynamic identity; it is constantly searching for new products that reflect the personality and taste of our customers," said Hussein Patel. In Sacmi, Big Tree Beverages found a partner capable of accompanying their ambitions.