Finn Korkki
From WikiPETia.info
Finn Korkki
Founded
1886
Founder
August Wicander
Headquarters

Hämeenlinna

,

Finland

Website
www.finn-korkki.com
Company Profile
Finn-Korkki is a privately owned company, located in Hämeenlinna, Finland. The main products of Finn-Korkki are ring pull bottle caps, ring pull cap sealing machines, luxury aluminum closures and crown cork bottle caps. In addition Finn Korkki manufactures aluminum tea light cups and outdoor candle covers. Finn-Korkki has been designing and manufacturing ring crown cap equipment since 1979. The company supplies customers with ring crown cap equipment, a supervised installation and operator training.
A quick and reliable service, benefited by the company's in-house prepress and offset printing facilities adds to the support of the company's customers. Research & development of bottle caps and ring pull sealing machines is being continuously undertaken.
Finn-Korkki is approved under ISO 9001 quality, ISO 14001 environment, OHSAS 18001 health & safety at work and ISO 22000 HACCP standards.
Products / Technology
Caps and closures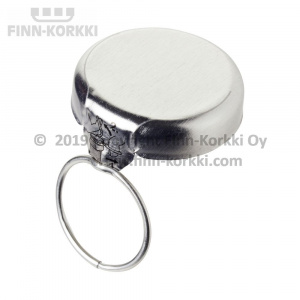 26 mm RipCap
42 mm RipCap
LuxTop - Luxury Aluminum Closures
Crown Cork Bottle Caps
Equipment and Machines
Ring Crown Cap Sealing Equipment
Sorting Hopper for Ring Crown Caps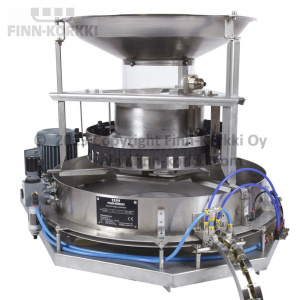 Ring Crown Cap Sealing Heads
Chute for Ring Crown Caps of Various Types
Ring Pull Cap Applier for RipCap & Ring Crown Caps
Hand cappers for RipCap, RingCrown and Crown cap
History
1886 - founded by August Wicander and started business activities by producing cork stoppers
1930's - development of the ALKA bottle cap, known today as rip-caps bottle closure
1960 - business was transferred to Oy Wicanders Ab
1970's - development of the first pre-manufactured "easy to open by hand" bottle caps
1980 - developed Ring Crown caps - Ring Pull Cap - then called MaxiCrown
1989 - Finn-Korkki Oy became an independent company after a management buy out from Wicanders
1998 - acquisition of Hämeenlinnan Grafipalvelu Oy
2000 - invention of the Absolute Vodka bottle closure
2001 - Ring Crown replaced MaxiCrown and became the registered brand name for Finn-Korkki's ring pull cap
References
External links