Tecnofer
From WikiPETia.info
Tecnofer
Founded
1976
Headquarters

Ceneselli

,

Italy

Number of employees

60 (2016)
Website
www.tecnofer.biz
Company Profile
Tecnofer, Ceneselli, Italy, is a supplier of recycling equipment and machinery. Among other things, Tecnofer is offering complete washing lines for post-consumer PET bottles and containers, reaching high output quality up to food grade/bottle-to-bottle applications.
The company's "turnkey" supply includes building and installation of recycling plants, technical assistance and training for operators. Customized lines are available for outputs ranges from 150 - 4,000kg/h.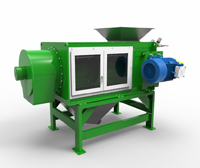 Products
Agglomerator
Dynamic Centrifuge
Shredder
Screw Press
Screw Press for wet waste
Bale opener
Horizontal centrifuge
Meltec
Trommel
Pre washing tank
Washing tank
Electric panel
Grinder
Vertical mixer silo
Film storage silo
Ground storage silo
Food depackaging machine
Facts and Figures
Foundation date:1976
Employees: 60
Covered industrial estate: 40,000m²
Buildings: 15,000m²
History
TECNOFER was established in 1976 and it started to produce under it's brand exclusivly machinery and plants for plastic recycling.
For many years Tecnofer's activity has been suggesting new business connected with environment protection needs. The production includes full-automatic recycling plants for highly contaminated plastic scraps which turned into thermoplastic pellets are suitable to produce any plastic manufacture.
References
PETplanet Insider Articles
Issue 10 / 2019: Hot treatment unit Mod.MTC1

External links